Why jumps racing is banned everywhere except Victoria
"It looked bad, it really did. It was quite a bad fall," trainer Dane Smith recalls.
An import out of Ireland by one of the greatest horses to ever race, he was like many progressive young stayers who come to Australia from Europe, targeted at races like the Melbourne Cup.
"The dream is to win at the highest level," says Australian Jumps Racing Association chairman and prominent owner Sandy McGregor, who imported Irish-bred Puissance De Lune to claim the 2015 Cup made famous by Michelle Payne's triumph.
"In practice most don't make the highest level and jumps racing provides the horse, owners and trainers a second chance of racing."
San Remo was purchased at an online sale in early 2019, and while Frankel's progeny aren't known to be outstanding jumps horses, Smith took a punt on the gelding, who had triumphed in a 3000-metre Cranbourne race by seven lengths just a few months earlier.
At his first go over the hurdles he broke his maiden, but it was over the steeples, in the testing 5500-metre Grand Annual, that caused the fall – his second in a race.
Warrnambool May Racing Carnival
Tuesday May 2 – Brierly Steeplechase (3450 metres)
Wednesday May 3  – Galleywood Hurdle (3200 metres), Wangoom Handicap (1200 metres)
Thursday May 4 – Grand Annual Steeplechase (5500 metres), Warrnambool Cup (2350 metres) 
He could have suffered a catastrophic injury and died, but apart from a sore neck, the biggest scar was mental.
"For him, he definitely lost all his confidence," Smith says.
"It was a big off season for us and the horse. We took him right back to basics, like teaching a horse having their first go over the jumps. We started with smaller jumps and show jumping, a bit of cross-country, just teaching him to get his confidence back to jump things."
But San Remo never lost his enjoyment for jumping, and nearly a year on from the incident, he's ready to tackle the 'Bool again, having won back to back hurdle races in late March.
"If you don't put an obstacle in front of him, he's not really interested," Smith says.
"But if you put a hurdle in front of him, it really sparks his interest."
The other horses who fall
When Racing South Australia decided it could no longer fund jumps racing, the state government jumped on the opportunity to outlaw the sport, citing three months of statistics gathered from the RSPCA from Victorian jumps racing.
Loading
Those statistics showed that 12 horses fell in the only 12 jumps races held in those three months, and that corresponded to a heightened risk of falls and injuries in jumps races compared with flat racing.
McGregor doesn't dispute that on the track, jumps racing is inherently more dangerous than flat racing, but says what the stats don't factor in is that jumps horses have longer racing careers and ultimately have better prospects of post-racing careers as show jumpers and equestrian horses.
"In general, a steeplechaser or hurdler will race for half his career and almost certainly will be rehomed for hobby riding or equestrian as soon as his he retires due to his unique attributes of stamina, temperament and ability to jump," he says.
Fatalities have also dropped dramatically in jumps racing, down 75 per cent since major safety enhancements were made in 2010. From 2019, new technology and research was put into practice.
In the three previous seasons, Victoria averaged 9.3 fatalities in jumps races per year at a fatal incident rate of 1.04 per cent. But new lightweight jumps, softer racetracks, expanded veterinary checks and an order for jockeys to retire their horse from a race if it is fatigued, not jumping satisfactorily or out of contention has led to the fatal incident rate dropping by two thirds.
"The introduction of French brush steeples and the OneFit hurdle from England has seen the safest year in jumps racing in over 20 years," McGregor says.
"This is the world's safest equipment used in thousands of jumps races every year internationally.
"Replacing every schooling chute in Victorian racing clubs with the Irish Easyfix fences has also seen much better education outcomes for horses going jumping."
Why Victoria is the only state left with jumps racing
Nelson concedes there's no turning back for South Australia, given the government's decision to legislate against jumps racing, but says the Oakbank carnival could have maintained its relevance alongside Warrnambool had Racing SA – a board she used to chair – decided to invest in the sport.
Not much more than a decade ago, more than 100,000 people would attend across Easter Saturday and Easter Monday, but that had dwindled to about 25,000 at the final pre-COVID carnival 2019. The RSPCA said the drop pointed to a "huge lack of public support" for jumps racing.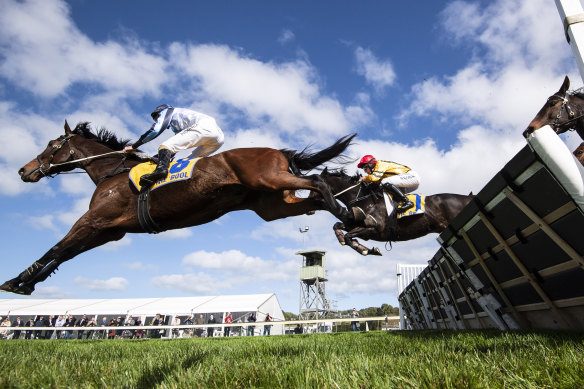 But this Easter just gone, only 15,000 attended the carnival, which includes attendees to a Friday music festival.
Racing SA chief executive Nick Redin cited a decline in participation levels for its decision to not hold jumps races at Oakbank from 2022.
But Nelson believes Racing SA gave participants little choice but to look to Victoria.
"I think they made a conscious decision not to provide the facilities to enable people to train the jumpers," Nelson says.
"There are still people in South Australia training jumpers, but they have to take their horses to Victoria, which they do on a regular basis. They take them there to trial, they take them there to race.
"[It's been successful in Victoria] because I think the board has backed it. The prizemoney is excellent, they've imported jockeys from Ireland to make sure they have enough riders, they've purchased those fail-safe hurdles from Europe, they've put up schooling facilities. They've provided the infrastructure and backed the industry."
Victorian Racing Minister Anthony Carbines said he was looking forward to joining thousands of people in Victoria's south-west for this week's Warrnambool carnival.
"Jumps racing is a much-loved and supported part of our industry – I'm looking forward to another fantastic event down in Warrnambool," he said.
News, results and expert analysis from the weekend of sport sent every Monday. Sign up for our Sport newsletter.